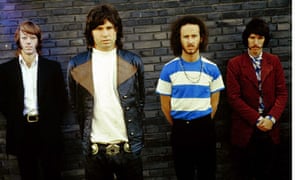 Out of the vastness of the Los Angeles Forum, its 18,000 seats filled on a December Saturday night with the cream of LA's teenybopper set, came the insolent cry. The Doors didn't want to do their 1967 hit; not only had they just finished their first number, but onstage with them and their 32 amplifiers were a string sextet and a brass section ready to perform new Doors music.
They got through a few more numbers, but then, with the yelling getting louder, they acquiesced. A roar of cheers and instantly the arena was aglow with sparklers lit in literal tribute. The song over, and the kids shouting for more, lead singer Jim Morrison, in a loose black shirt and clinging black leather pants, came to the edge of the stage.
"Hey, man," he said, his voice booming from the speakers on the ceiling. "Cut out that shit." The crowd giggled.
"What are you all doing here?" he went on. No response.
"You want music?" A rousing yeah.
"Well, man, we can play music all night, but that's not what you really want, you want something more, something greater than you've ever seen, right?"
"We want Mick Jagger," someone shouted. 
"Light My Fire," said someone else, to laughter.
It was a direct affront, but the Doors hadn't seen it coming. That afternoon, before the concert, Morrison had said: "We're into what these kids are into." Driving home from rehearsal in his Mustang Shelby Cobra GT 500, he swept his arm wide to take in the low houses that stretched miles from the freeway to the Hollywood Hills. "We're into LA. Here, kids live more freely and more powerfully than anywhere else, but it's also where old people come to die. Kids know both and we express both."
The teens had belonged to the Doors; their amalgam of sensuality and asceticism, mysticism and machine-like power had won these lushly beautifully children heart and soul, and the kids had made them the biggest American group in rock music. Now, at one of their biggest concerts, prelude to the biggest ever at New York's Madison Square Garden in January, the kids dared laugh, even at Morrison. Not much, but they had begun.
The Doors started out in LA's early hip scene in 1965. Morrison, then 22, son of a high-ranking navy official, met organist-pianist Ray Manzarek on the beach at Santa Monica while both were making experimental films at UCLA. Drummer John Densmore and guitarist Robby Krieger became friends of Manzarek at one of the Maharishi Mahesh Yogi's first meditation centres in southern California. Named from a line of Morrison's poetry – "There are things that are known and things that are unknown; in between are doors" – by early 1966 they had their first date, playing for $35 a week at a tiny and now defunct club on Sunset Strip.
While on their second job as the house band at Whisky a Go Go, working behind dozens of groups they have now eclipsed, they began to build a following, playing blues and classic rock songs with a harsh and eerie stringency. 
"We were creating our music, ourselves, every night," Morrison said, "starting with a few outlines, maybe a few words for a song that gradually accrued particles of meaning and movement. Sometimes we worked out in Venice, looking at the surf. We were together and it was good times."
Their best songs, Crystal Ship, the diabolical The End and Light My Fire took shape in those early days while Morrison was developing the erotic style that has made him the group's star and rock's biggest sex symbol. He doesn't fall off stages any more, but he writhes against the microphone stand, leaps from eyes-closed passivity into shrieking aggression, and moans sweet pain like a modern St Sebastian pierced by the arrows of angst and revelation.
Just about everybody takes him seriously: the New Haven police who last year arrested him for "giving an indecent or immoral exhibition"; the girls who rush the stage, sometimes only to get ashes flicked from his cigarette; and critics who rave in detail about "rock as ritual". But no one takes Morrison as seriously as Morrison takes Morrison.
His stage manner, he said, unlike the acts of Elvis, Otis Redding, and Mick Jagger, with whom he is often compared, has a conscious purpose. Shyly, almost sleepily soft-spoken in private, he sees his public self as a new kind of poet-politician. "I'm not a new Elvis, though he's my second favourite singer – Frank Sinatra is first. I just think I'm lucky I've found a perfect medium to express myself in," he said during a rehearsal break, slouched tiredly in one of the Forum's violently orange seats. Though handsome, with his pale green eyes and Renaissance prince hair, he has none of the decadent power captured in the spotligh
"Music, writing, theatre, action – I'm doing all those things. I like to write, I'm even publishing a book of my poems pretty soon, stuff I had that I realised wasn't for music. But songs are special. I find that music liberates my imagination. When I sing my songs in public, that's a dramatic act, not just acting as in theatre, but a social act, real action.
"Maybe you could call us erotic politicians. We're a rock'n'roll band, a blues band, just a band, but that's not all. A Doors concert is a public meeting called by us for a special kind of dramatic discussion and entertainment. When we perform, we're participating in the creation of a world, and we celebrate that creation with the audience. It becomes the sculpture of bodies in action.
"That's politics, but our power is sexual. We make concerts sexual politics. The sex starts out with just me, then moves out to include the charmed circle of musicians on stage. The music we make goes out to the audience and interacts with them, they go home and interact with the rest of reality, then I get it back by interacting with that reality, so the whole sex thing works out to be one big ball of fire."
That analytical abandon was just right for the serious rock of the post Sgt Pepper era. After the album version of Light My Fire got heavy airplay on FM rock stations, Elektra released a shorter single that became a top 40 No 1. The Doors have followed it with a series of singles and two more albums. They have a quickly identifiable instrumental sound based on blues topped with Morrison's strong voice and lyrics. Manzarek plays a rather dry organ, but Krieger is an aggressive guitarist and Densmore a solid and inventive drummer.
Yet as the kids in the Forum knew, they've never topped Light My Fire. The abandon has gotten more and more cerebral, the demonic pose more strained. The new music they wanted the crowd to like at the concert was abstract noise crashing behind a Morrison poem of meandering verbosity.
After the show, Morrison said it had been "great fun", but the backstage party had a funereal air. And at times that afternoon, he showed that he knew their first rush of energy was running out. Success, he said, looking beat in the orange chair, had been nice. "When we had to carry our own equipment everywhere, we had no time to be creative. Now we can focus our energies more intensely."
He squirmed a bit. "The trouble is that now we don't see much of each other. We're big time, we go on tours, record, and, in our free time, everybody splits off into their own scenes. When we record, we have to get all our ideas then, we can't build them night after night like the club days. In the studio, creation is not so natural.
"I don't know what will happen. I guess we'll continue like this for a while. Then to get our vitality back, maybe we'll have to get out of the whole business. Maybe we'll all go off to an island by ourselves and start creating again."